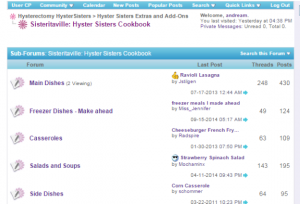 That's right!  As varied is our group of HysterSisters, so is the cookbook that is at your disposal and…just in time to help you prepare that last minute Thanksgiving dish!
Everything from side dishes to casseroles and vegan dishes to slow cooker recipes can be found right here in our Sisteritaville: Hyster Sisters Cookbook.  
If you try one, let us know!  Have a family favorite?  We would love for you to share it!!