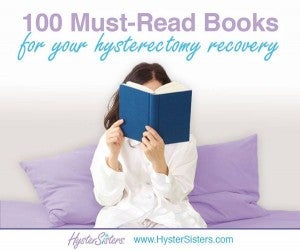 Today is World Book Day!!  So, it seemed like a great day to share one of our favorites lists compiled with the help of our fellow HysterSisters!    Click here for 100 Favorite Books for Hysterectomy Recovery!
In addition to articles and lists like this, our website is home to many forums where women chat and share about all sorts of conditions, problems, procedures and more!
We also have a store of hysterectomy and menopause related products, a doctor search area and even a new area.  So after you've spent some time with your nose in a good book, come spend some time with us!  See you on the main site!