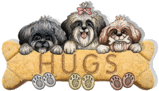 Gee, I finally get to use the computer. Once my husband gets hold of it you might as well give up.
Its been a very nice new year so far. Pretty relaxing past few days. Now that my husband is no longer working its a lot less stressful here. But now I've got to find medical insurance. He already has medicare part A & B. Just needs to find prescription coverage.
Next is supper, probably pizza, then enjoy the rest of the evening.