Cookie Break
DECEMBER 1, 2010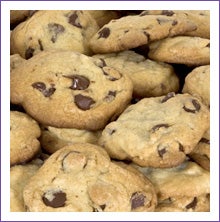 Even in the midst of business appointments, traveling and the hunt for the perfect Christmas gifts, I decided to take a break. Just a mini one. In fact, it was a moment in time wedged between some "html" on the website and a phone appointment on the other.

My break consisted of a browse through my favorite Christmas cookies recipes and a fast trip to the grocery store to pick up brown sugar, vanilla extract and a pound of shelled pecans. With all the ingredients in hand, my mixer was fired up and in a matter of thirty minutes my kitchen was filled with the smells of Christmas. I had Mexican Wedding Cookies cooling on the wire rack and another batch in the oven.

Even though I answered the phone between batches, and replied to a few emails, within a few hours I had 3 different batches of cookies that smelled so good my husband said he could smell the yummy odors from the driveway.

Sometimes we have the opportunity to take a long break with a good book. Sometimes, our time is in pieces and parts and it takes some planning to get a break from the rush of the season and remember the reason for the season.

May you be surrounded by those who love you. May you find ways to serve others less fortunate. May you find ways to count your blessings and name them one by one!
Blessings galore,
Kathy Kelley
Take Control of Chronic Stress
DECEMBER 1, 2010
We all deal with stress on occasion. When financial problems, medical conditions, and concern about loved ones set the stage for constant worry and anxiety, it can lead to chronic stress, which means we never have a chance to relax and recharge.

Over time, chronic stress can cause problems with memory, concentration, irritability, depression, stomach upset, chest pain, substance abuse, and much more. With so many potential problems, it is important to learn how to deal with chronic stress. While we cannot always change the things that cause stress, we can do some things to lower our stress levels and help us cope more effectively.

Maintain relationships.

Although it may be tempting to shut yourself off from others at times, when you face chronic stress it helps to have people around to help you feel grounded and normal. And sometimes, hearing about another person's life can give you perspective or at least a break from your own troubles. If your relationships are the source of your stress, you can work to develop stronger relationships.
Help someone else by volunteering.
Have lunch or coffee with a co-worker.
Call or email an old friend.
Go for a walk with a workout buddy.
Schedule a weekly dinner date.
Take a class or join a club.
Take a moment to reflect on something kind another person has done for you.
Relax your mind and body.

Relaxation techniques such as yoga, meditation, and deep breathing activate the body's relaxation response, the opposite of the stress response. Using these techniques regularly will help lower your sense of constant stress. When you begin to develop a stressful response to something that happens, remind yourself to breathe as a first step. Schedule five-minute relaxation breaks into your schedule throughout the day, or take twenty minutes at the end of the day to help your body and mind simply rest.

Exercise.

Aside from the obvious benefits of maintaining your body's health, exercise can also improve your mental health. Your body releases chemicals during exercise that can combat mild depression, and focusing on another activity for a while can give your mind a break from your stress. Even a small thing like parking at the far end of the parking lot can provide some benefit.

Take charge!

You may not have any control over whether a spouse is unemployed or you have a chronic medical condition, but there are some things you can work to control: your thoughts, your emotions, your schedule, your environment, and the way you deal with problems. You can manage your time, think ahead about how you will react when something upsetting occurs, gather information, light a scented candle, and listen to music you love. Taking charge in even a small way can make a big difference when it seems like everything else in your life is out of control.

Take care of yourself in the best way you can. It may not make the stress go away, but it can help you feel less stressed so you are better able to cope with what life sends your way.
Are Hot Flashes Bothering You This Holiday Season?
DECEMBER 1, 2010
The last thing you want during the busy holiday season are bothersome menopause symptoms. If you are experiencing moderate to severe menopausal symptoms, such as hot flashes and night sweats, you may be looking for some effective relief. As your busy lifestyle reaches its busiest, ask your doctor about an estrogen therapy option that may be right for you.
If you're considering estrogen therapy to help control moderate to severe hot flashes, night sweats, and vaginal dryness and atrophy associated with menopause, ask your doctor about your hormone replacement options. Make sure to choose one that will fit in with your active lifestyle—throughout the holidays and after.
Your doctor will likely start you with the lowest dose of estrogen. If you are still experiencing bothersome symptoms, talk to your doctor about whether your dose needs to be adjusted.
10 Ways to Keep the Holidays from Getting Stressful
DECEMBER 1, 2010
The holidays can be the best of the best or the worst of the worst times for all of us. Expectations for perfect family gatherings and finding the perfect gift can lead many women to feel frazzled and emotionally exhausted by the time the new year has arrived.

We asked the members of HysterSisters for their favorite ideas for ways to de-stress from the holidays pressure or ways to keep their holiday time less stressful. They have some great ideas!

About Gift Giving:

1. "I do most of my shopping on line to avoid the crazy mall." - SB

2. "With most of my family, we have opted away from gift giving, or insist that we donate to a charity instead of a gift." - F

About Holiday Traditions:

3. "I spend time at a movie with my children or we watch them at home." FR

4. "I also purposefully insert holiday activities - a concert at church - a show at the theatre - going carolling with friends in the neighborhood - that remind me of the reason for the season
instead of spending all my energy decorating, shopping or fretting." - KP

5. "One tradition that my mom and I cherish each year is homemade tree ornament exchange. It's a tradition about the care we put into it, thinking of each other while we make them, and the drawn out act of admiring them when we do our 'ornament exchange'. The process of putting up our trees each year is a walk down memory lane when we pull out all the treasures from years past." - F

6. "Our family tradition is to have soups and/or cold dishes for family Christmas dinner. It makes it easy for the hostess, AND the guests, as they can make a dish ahead of time." - TS

About De-stressing:

7. "De stressing this year means shopping online and doing minimal decorating. - SK

8. "I intend to book a massage for myself between now & Christmas Day." - TS

9. "I find reading relaxes me because I get into the book and forget everything else." - SB

10. "I find setting my mind to being grateful is essential! And drinking a good cup of Chamomile tea." - LJW
Is It Depression?
DECEMBER 1, 2010
Even if you have never suffered from stress and other emotional health issues before in your life, the hormonal upheaval which often occurs following a hysterectomy can trigger mood disorders such as anxiety and depression. Even women who keep their ovaries can experience emotional shifts during recovery. While getting on the right HRT (hormone replacement therapy) regimen works for most women in alleviating the anxiety and mood fluctuations that commence with surgical menopause, for other women, taking an SSRI (selective serotonin reuptake inhibitor) can wind up being the key to "feeling like yourself" again.

Exactly what is depression? It is not a weakness or personality flaw. It isn't temporary worry or situational anxiety about a recent pressing personal problem, family issue or employment dilemma. It's not just a few days of feeling anxious or sad because of current stressful circumstances or challenging occurrences in your life. Anyone, regardless of age, gender, race or socioeconomic status, can suffer from depression. Depression changes the way you think and how you behave. It takes away your feelings of well-being and sense of connectedness to the world around you. It can cause you to sleep or eat too much or not enough. If is gets bad, it can make you feel like your life just isn't worth living. (Depression Symptoms)

Depression is caused by an imbalance of certain chemicals in the brain. You didn't "do anything wrong" to cause this to happen. Depression is a medical condition like any other, and doctors are able to treat it effectively.

If you are several months (or years!) post-op and your mood is still low and you don't "feel right," you need to call and make an appointment with your regular medical provider to talk about how you have been feeling. Family physicians are qualified to treat depression. It is actually a common medical condition. Your doctor will ask you some easy questions and may have you fill out a short questionnaire.

Remember, there is effective help available for depression. Make an appointment with your doctor. Take a list of the symptoms you are experiencing. You deserve to be the best "you" that you can be!
From the HysterSisters Forums
DECEMBER 1, 2010
I'll be 44 years old tomorrow, and my surgery is in 6 days. At this point, I'm nervous, but excited to get it over with. I'm so sick of being in constant pain. My kids are very sympathetic, but my boyfriend isn't. He does not think that this is a major surgery. He says that he's had family members that have gone through this, and it's not a big deal. Now, I've had open heart surgery, and I've had my right ankle fused, which caused me to be immobilized for 6 months, so believe me, I have had major surgeries! But I've done research on this, and I've talked to my doctor, and I know what I'm facing. And I know that any surgery that is going to cause you to be down for 4-8 weeks is major! My psychiatrist recently put me on effexor for anxiety and mild depression. It is helping greatly, but the anger is still there. Is there anyone that can give me some advice on how to handle my situation?
More Discussions to join about stress and depression:
More Information and Links
DECEMBER 1, 2010
Be our fan on Facebook
Follow us on Twitter
Check out our Calendar of Events
Order a free booklet: What 100,000 Women Know About Hysterectomy
Find off-topic Chatter with Friends in our forums
Visit the Hystersisters Store