HysterSisters Mission Statement
Hystersisters.com is a woman to woman support website for GYN medical and emotional issues surrounding the hysterectomy experience. It is not intended to take the place of a personal physician. The Hyster Sisters site is neither anti hysterectomy nor pro hysterectomy, rather, it is an online community of women who give and receive support for hysterectomy decisions, recovery and treatments. Hystersisters.com offers resources and kindness so that our visitors can discover options and make decisions for themselves.
Hystersisters.com is not a medical authored website. We are patient to patient support site for women.
About Us
HysterSisters.com enjoys the benefits of over 40 volunteers and a handful of employees that manage the growing online community of 302,495 members.
Website hardware, housed at a large datacenter in Texas, is managed by a system administration team who oversees the website's three servers, Ruby, Ethyl, and Dora, balancing the hardware needs of the HysterSisters.com website traffic.
Our web-developer, Logician, manages the customizations and coding needed to keep this site thriving each day with the spectacular features he brilliantly scripts. Our lovely interface was carefully created by Nicholas who makes sure our site is not only beautiful but seamless with the coding. Erich holds the mighty distinction of being Data Analyst for our gigantic database.
The HysterSisters Story - Video
Our staff: Catherine answers the HysterSisters helpdesk email. Twy manages the staff of volunteer hostesses. Kate is the Content Specialist. Chris organizes the website chats and oversees our calendar. Bluebird Sisters manages the HysterSisters Store, packaging each HysterSisters outgoing store merchandise order. Chandra arranges the mailing process of our booklets. Kathy Kelley (site creator and owner) juggles the many tasks daily to keeps things together as website manager.
Most importantly is the staff of volunteer hostesses (forum moderators) who dedicate their extra time and energy making sure HysterSisters members and guests find the help and support they need. They are the reason HysterSisters is known as the "best of the best on the net" for hysterectomy support. They are instant friends to each person who visits our site. Meet them here in their hostess bio pages.
Location
HysterSisters, Inc.
2436 S. I-35 E. Ste. 376-184
Denton, Texas 76205
Media Mentions
HysterSisters.com has been mentioned in many articles in news, tv and radio programs. Here are a few of those mentions: [Click Here]
HysterSisters is often featured in the NEWS. Click here to read our Press Room.
More Information and FAQ
If you are looking for a few more bits of information, please visit our website FAQ: [Click here for FAQ].
HysterSisters Hyst-Story Timeline since 1998
The HysterSisters Website has changed significantly since it's first launch in August of 1998. Every step along the way has been a labor of love and attention to the needs of our website visitors. As technology allowed, HysterSisters has expanded to offer more and more resources and features to its visitors. The HysterSisters staff is encouraged by the yearly growth but more importantly the loyalty of our members to the "sisterhood" of HysterSisters.
1998 August - HysterSisters website launched on free website space
1999 July - Domain "Hystersisters.com" registered. (100 unique visitors per day)
1999 November - Added hostesses for overseeing discussions.
2000 May - Switched core website software to vBulletin with registration required.
2000 Summer - Outgrew three server accounts. (1200 unique visitors per day)
2001 January - Moved to dedicated server. (2500 unique visitors per day)
2003 August - Celebrated 5th year online. (4500 unique visitors per day)
2004 August - Server relocation to Dallas datacenter.
2004 December - Hysterectomy Checkpoints added. (6500 unique visitors per day)
2005 January - Added second server to balance load of website traffic
2005 July - Website upgraded software and interface. (8000 unique visitors per day)
2005 August - Celebrated 7th year online.
2006 August - 8 years online, 100,000 members
2008 March - Published for patient distribution: "What 100,000 Women Know About Hysterectomy"
2008 April - Upgraded Website Interface
2009 April - Upgraded vBulletin software
2009 July - Relaunched Hysterectomy Checkpoints, Added video section, created mobile interface
2009 August - Celebrated 11th year online, 170,000 members
2010 Launched "Checking In" newsletter - women's health issues beyond hysterectomy
2010 June - Launched GiveMeASecond.com - video & campaign for 2nd opinions
2010 August - Celebrated 12th year online, 200,000 members
2011 August - Celebrated 13th year online, 236,000 members, added new database server Dora2.
2011 December - Produced and released 4 "Ask the HysterSisters" videos for pre-op and post-op support.
2012 March - Produced and released video "The HysterSisters Story"
2012 March - HysterSisters.com was honored at a benefit dinner by ISGE in Orlando
2012 August - Celebrated 14th year online, 273,000 members
2012 August - Developed and Released iPhone and iPad app through iTunes
2012 December - Developed and Released Android App through Google Play
2013 January - Traffic hitting over 30,000 visitors per day
"Even now, after 12 years, I still look forward to logging-in at HysterSisters.com to read posts from our members. Who would have thought I would surround myself with an amazing group of women in an online website experiment of 'women helping women'? Yet here we are, an online success, because our members make a difference in each others' lives." - Kathy
From the Creator of HysterSisters.com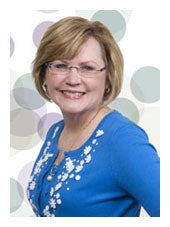 "Even now, after 15+ years, I still look forward to logging-in at HysterSisters.com to read posts from our members. Who would have thought I would surround myself with an amazing group of women in an online website experiment of 'women helping women'? Yet here we are, an online success, because our members make a difference in each others' lives."
In the summer of 1998, after carefully weighing all my options with my doctor, I was admitted to the hospital and at the hands of an excellent surgeon had a total abdominal hysterectomy and bilateral oopherectomy. My recovery was quite ordinary in many respects. But, as an avid internet junkee, I surfed the world wide web for any and all information I could get my hands on in order to learn all about my "new" body.
When I put up this website in the summer of 1998, it was my hobby. I wanted a way to connect women for support and sharing through a difficult process. Difficult decisions. Complicated recoveries. Happy recoveries. Hard recoveries. So, because there was no other like it, I launched Hyster Sisters.
I've watched Hyster Sisters Hysterectomy Recovery Website grow each month. I've watched the counter click visitor numbers and I was amazed. I've received email from search engines who selected the website as a "hot find". I've received email from newspapers and TV stations and became astonished at the power of a "support" website for women as they wanted interviews so they could spread the word about the site. USA Today...Fox Network...The Health Network...
As the traffic continued to grow, the expenses went up. Webspace. Domain names. Legalities of stuff that I never even dreamed about in my world as a public school teacher. Early in the website's life, I had begun to get requests for a book version of the website.
With the success of the website, the Hyster Sisters asked for T-Shirts and Night Shirts. Other ideas poured in. Pillows. Mugs. Notecards. The list is endless for Hyster Sisters merchandise and hysterectomy products so the HysterSisters Store was launched.
There are no membership fees or dues to pay. Our goal is to keep the website free for guests and members to find support for their hysterectomy concerns. We manage our financial obligations with the help of our sponsors, advertisers and our members.
This website is run on the generosity of women who volunteer their time and effort to provide support in the midst of generous givers of money, supporting our sponsors as well as purchases through our store.
Of course, the main reason the Hyster Sisters website is the best on the net is the Hyster Sisters themselves: YOU! You make the difference in each others lives....you are a blessing to me!
Thanks for your support.....and blessings galore through the Land of Hyster,
Kathy
Hostess Bios
The HysterSisters Website is blessed by the voluntary hearts of kindness and support our Hostesses (forum moderators) offer to our members. Many of our hostesses have been with the website for many years and we always like to welcome new members to the team! They stay, dedicated to the idea that women are at their best when they are supporting each other.
Alumni Hostess Bios
Even after our hostesses move on with their lives and retire their official "teapot", we value their contribution to our team and to our members. Each has contributed to the success of HysterSisters by their kindness, and we count each and every one as a friend. We are grateful they came our way!