| | |
| --- | --- |
| Laparo-Endoscopic Single-Site (LESS) Hysterectomy | |
Laparo-Endoscopic Single-Site (LESS) Hysterectomy
Acronym: LESS
Description of procedure: This procedure is done through an approximately one inch single incision in the fold of the belly button which avoids the large six to eight inch incision made in the lower abdomen involved in typical open hysterectomy and the multiple (3 - 5) approximately one inch incisions required for standard laparoscopic surgery. After the LESS hysterectomy, the incision is covered by the natural contours of the belly button hiding the scar. This new advanced surgical technique reduces the pain and minimizes the scarring compared to open surgery, and typically requires only one day in the hospital, and generally you're back to your normal routine within a few weeks.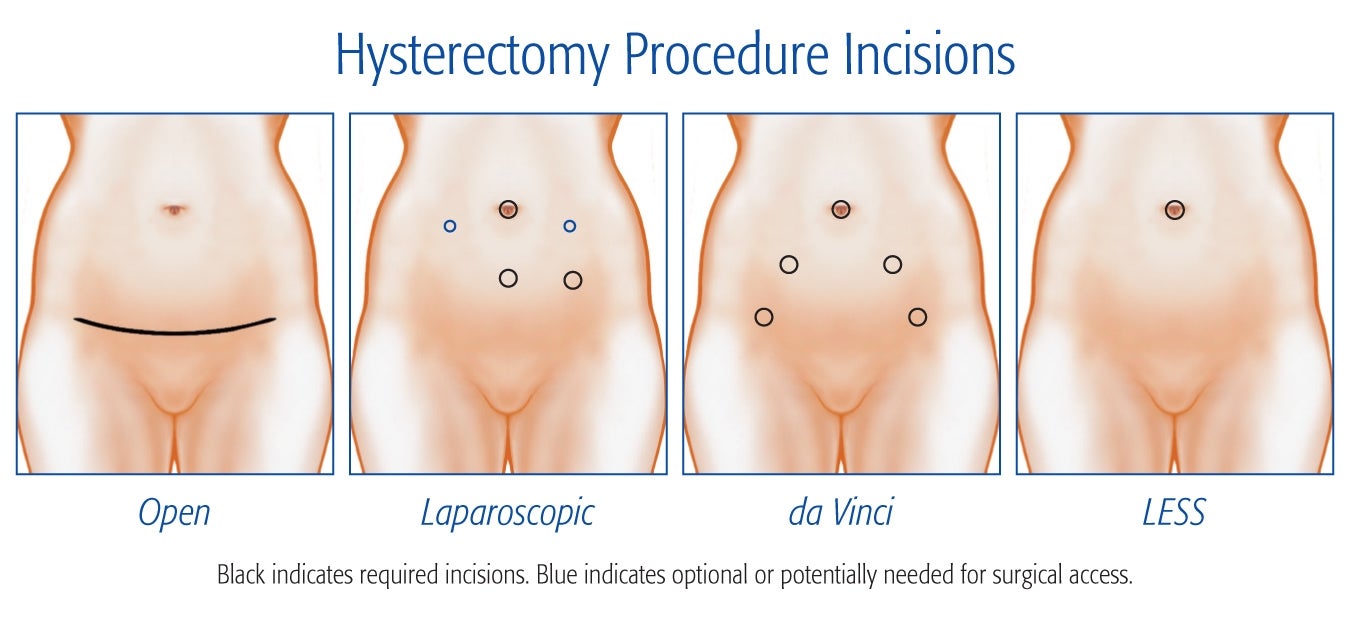 Potential benefits of a LESS hysterectomy over vaginal or open surgical approach include:
LESS post-operative discomfort or pain
LESS blood loss
LESS potential complications, such as infection
LESS scarring
LESS time in the hospital
LESS time away from normal daily activities
Find a surgeon near you who performs LESS Hysterectomy
Risks & Complications
Before making your decision to have surgery, it is important to understand the risks. There is always a possibility that your LESS hysterectomy may be converted to a laparoscopic or open procedure if there are unforeseen complications during your procedure such as difficult anatomy or excessive bleeding. While major risks are rare, all surgery should be considered carefully. With LESS surgery, as with all surgery, there are the typical risks of reactions to medications or problems resulting from the anesthesia, bleeding, infection, problems breathing, blood clots in the veins or lungs, inadvertent injury to other organs or blood vessels near the uterus, and even death, which is rare. The risk for serious complications depends on the reason the surgery is needed and your medical condition and age, as well as on the experience of the surgeon and anesthesiologist. Ask your doctor what you should expect after surgery, as well as the risks that may occur with surgery.
Page Created at 09-21-2010 - 09:44 AM, Last Modified 09-21-2010 - 09:48 AM
Currently Active Users Viewing this Page: 1

(0 members and 1 guests)

: