Bilateral Salpingo and Oophorectomy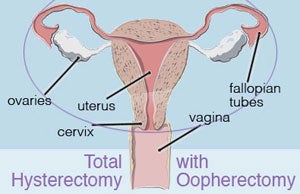 This involves the removal of both ovaries and of both tubes.
Acronym: BSO
Description of procedure: Sometimes, both ovaries and fallopian tubes are removed at the same time a hysterectomy is done. When both ovaries and both tubes are removed, it is called a bilateral salpingo-oophorectomy which is usually shortened to BSO. (bilateral=both sides, salpingo =the fallopian tubes, oophore =the ovaries, ectomy = removal)
Indications/contra-indications: The removal of ovaries is most often recommended when the ovaries are diseased. Your doctor may also recommend their removal in the case of cancers that are responsive to the hormones produced by the ovaries. If Endometriosis or Adenomyosis is suspected, some doctors will suggest the removal of ovaries. Removal of ovaries will throw you into surgical menopause which may result in hormonal unbalance and might put you at an increased risk for heart disease, some types of breast cancer and might trigger clotting disorders.
Initial Recovery: Your recovery will be based on the type of hysterectomy you had. Variations on a theme: Sometimes only the left or right ovary & tube are removed, and this is referred to as RSO or LSO