A vaginal hysterectomy is a surgical procedure done through the vagina, removing the uterus and cervix. If your doctor has mentioned a vaginal hysterectomy there will not be an incision in the abdomen. In recent years, the vaginal hysterectomy has become more common as technology provides for additional help to the surgeon. Sometimes this surgery is aided by the use of a laparoscope. For more details and definitions for vaginal hysterectomy, please scroll below.
Total Vaginal Hysterectomy
This procedure is the same as in the TAH, performed vaginally
Acronym: TVH
Description of procedure: The doctor removes the uterus and cervix through a cut in the vagina. As with the TAH the top of the vagina is repaired by being sewn to form the vaginal cuff. Indications/contra-indications: This is usually the surgery of choice if you have prolapse, if there is no possibility of cancer, if your uterus is not too enlarged and if you've delivered vaginally. This type of surgery is not recommended when the surgeon needs to have space to look around, if there is danger of cancer cells or of endo spreading, if you have not delivered vaginally or if your uterus is enlarged beyond a certain size. This surgery can entail additional bleeding. Due to the lack of the presence of an incision, it is easy to forget you've just had major surgery and run the risk of thinking that they are further ahead in their recovery.
Initial Recovery: Expect 6 to 8 weeks of recovery, with lifting and straining restrictions for this whole period. It is also normal to expect to have a restriction on intercourse for the whole of the initial recovery period.
Variations on a theme: It is also possible that your doctor will may opt to perform a Laparoscopically Assisted Vaginal Hysterectomy (LAVH). If that is the case, the cervix is still removed.
Bilateral Salpingo and Oophorectomy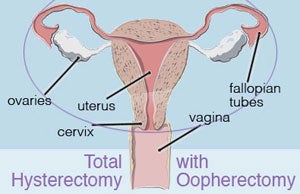 This involves the removal of both ovaries and of both tubes.
Acronym: BSO
Description of procedure: Sometimes, both ovaries and fallopian tubes are removed at the same time a hysterectomy is done. When both ovaries and both tubes are removed, it is called a bilateral salpingo-oophorectomy which is usually shortened to BSO. (bilateral=both sides, salpingo =the fallopian tubes, oophore =the ovaries, ectomy = removal)
Indications/contra-indications: The removal of ovaries is most often recommended when the ovaries are diseased. Your doctor may also recommend their removal in the case of cancers that are responsive to the hormones produced by the ovaries. If Endometriosis or Adenomyosis is suspected, some doctors will suggest the removal of ovaries. Removal of ovaries will throw you into surgical menopause which may result in hormonal unbalance and might put you at an increased risk for heart disease, some types of breast cancer and might trigger clotting disorders.
Initial Recovery: Your recovery will be based on the type of hysterectomy you had. Variations on a theme: Sometimes only the left or right ovary & tube are removed, and this is referred to as RSO or LSO
Abdominal Hysterectomy Stories
Browse all our member hysterectomy stories:
Pre-Op Hysterectomy Articles